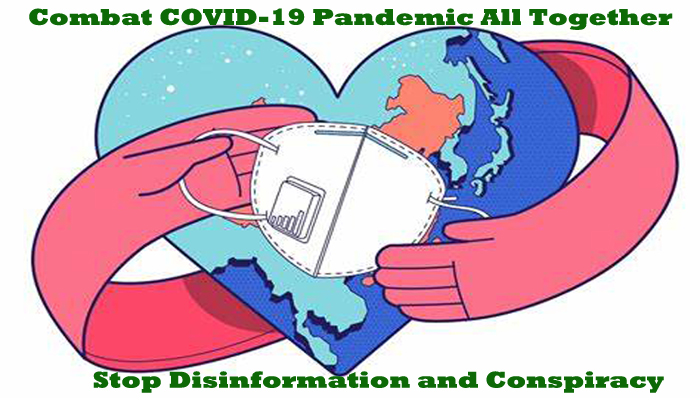 Combat COVID-19 pandemic all together through WHO, Stop disinformation and conspiracy
CMAONA
The World is facing extreme challenges due to COVID-19 pandemic. It caused far-reaching consequences beyond the death of over 1.1 million lives on October 17 and tough efforts to contain it. Human being as a whole are suffering from economic recession and jobless, social isolation and distortion, psychological trauma and mental torture, racial tension and inequality, age disparity and disadvantage.
Every government has tried its best to combat this novel invisible enemy. But country-based combating efforts against COVID-19 can't achieve the goals effectively as novel coronavirus (NCV) does not recognize borders. Individual country fighting alone against COVID-19 tends to survival competition among countries, isolation and self-dependency towards degloblization. We have to take immediate action to revert this negative trend.
The global health community need to close ranks and work together, under the leadership of WHO, to implement coherent and integrated measures to manage the pandemic effectively and efficiently. WHO has a central role to play, to bring the affected governments together and manage the available technologies and resources rationally and in an integrated and balanced manner. Once the pandemic is over, WHO will discuss the lessons learned and set in place a rapid response protocol as well as communication system that will allow for quick implementation of quarantine, treatment and containment actions for any future risk.
Because pandemic can happen anywhere in the world, we need to investigate its origin and evolution scientifically. Disinformation and conspiracy does no good but harm to our collective efforts. Though the first discovery of NCV was by Chinese doctors in Wuhan on Dec. 8, 2019, there were several afterwards evidences indicated that it was existed earlier at other places. Spain detected NCV in the wastewater samples of March 12, 2019; Japan tested its August, 2019 blood samples and 2 out of 500 were NCV positive; France back traced its "Patient Zero" to Nov. 16, 2019; Brazil found NCV in its November 2019 sewage samples; Italy detected NCV in sewage sample of December 18, 2019 and NCV specific antibodies in the blood samples of September 2019; The Mayor of Belleville, New Jersey declared that he was infected with NCV in mid November, 2019. CDC director, Dr. Robert Redfield told the House Oversight Committee that posthumous diagnosis of 2019 super-flu victims some tested positive for NCV. UCLA published a study recently that COVID in memory of COVID-19 victims -19 was spreading silently in Los Angeles last December; CDC latest study found COVID-19 was silently infecting Americans before first cases emerged in Wuhan. Therefore, we don't know the exact origin of NCV yet. We must stop the disinformation and conspiracies of NCV.
If you believe that the World is one family and all human being share the same future and obligation, please kindly sign this public petition. Let's combat the COVID-19 all together through WHO and stop NCV disinformation and conspiracy. We shall establish a Virtual Memorial Hall for COVID-19 Victims after we collected over 1 million signatures,.
Thank you very much for your support and your participation! Please click here to sign up.